1. Elephant Tusks are government property
Key Pointers:
The Supreme Court has ruled that tusks are the property of the government.
The Supreme Court observed that there is a clear "declaration" in the Wildlife (Protection) Act of 1972 on elephant tusks being government property.
The ruling, however, may not affect individuals who have ownership certificates for declared ivory. Even in the case of captive elephants, either the government keeps custody of tusks or owners are permitted to retain them if they give an undertaking that they would not be traded.
Do you know?
India prohibits import and export of ivory.
The population estimation of Asian elephants in 2017 census is lower than from the last census estimate in 2012.
Karnataka has the highest number of elephants (6,049), followed by Assam (5,719) and Kerala (3,054).
Important Value Additions:
Project Elephant
Project Elephant (PE) was launched by the Government of India in the year 1992 as a Centrally Sponsored Scheme with following objectives :
To protect elephants, their habitat and corridors
To address issues of man-animal conflict
Welfare of captive elephants
Monitoring of Illegal Killing of Elephants (MIKE) Programme
Mandated by COP resolution of CITES, MIKE program started in South Asia in the year 2003 with following purpose – To provide information needed for elephant range States to make appropriate management and enforcement decisions, and to build institutional capacity within the range States for the long-term management of their elephant populations
The main objectives of the MIKE are
to measure levels and trends in the illegal hunting of elephants;
to determine changes in these trends over time; and
to determine the factors causing or associated with such changes, and
to try and assess in particular to what extent observed trends are a result of any decisions taken by the Conference of the Parties to CITES
=================================
2. Domestic Violence Act for divorced women too
In News:
Supreme Court held that the Domestic Violence Act — meant to punish men who abuse women in a relationship — extends to all man-woman relationships, and also protects divorced women from their former husbands.
Key pointers:
According to the recent order, 'domestic relationship' includes "consanguinity, marriage, a relationship in the nature of marriage, adoption or as family members living together as a joint family".
In other words, 'domestic relationship' is not confined to the "relationship as husband and wife or a relationship in the nature of marriage, but it includes other relationship as well such as sisters, mother, etc.".
The court held that domestic violence can continue even after divorce. A divorcee husband could resort to violence by entering the workplace of his former wife to commit an act of violence, or even attempt to communicate with her, or threaten or cause violence to her relatives or dependents or any other person. It amounts to domestic violence if the former husband tried to dispossess the woman from a jointly-owned property or refuse to return her 'stridhan' or valuable security or other property.
The Act brings all these acts of violence within its ambit.
The purpose of the enactment of this Act is to protect rights of women who are victims of violence of any kind occurring within the family.
=================================
3. Shangri-La dialogue and Shanghai Cooperation Organisation (SCO) summit
In News:
Prime Minister Narendra Modi is expected to make a "major" speech on India's defence and security outlook at the Shangri-La dialogue in Singapore (which will be held on June 1 and 2).
PM will also fly to Qingdao city in China for the Shanghai Cooperation Organisation(SCO) summit which will be held on June 9 and 10.
Important Value Additions:
About Shangri-La Dialogue (SLD):
SLD is a "Track One" inter-governmental security forum held annually by an independent think tank, the International Institute for Strategic Studies (IISS).
The event is attended by defense ministers, permanent heads of ministries and military chiefs of 28 Asia-Pacific states.
The forum gets its name from the Shangri-La Hotel in Singapore where it has been held since 2002.
Shangri-La dialogue is run by the London-based think tank International Institute of Strategic Studies and funded and hosted by the Singapore government.
Over the years ministers have used the Dialogue to propose and advance initiatives on important security issues.
About SCO:
China will host 2018 Shanghai Cooperation Organization (SCO) Summit.
The Shanghai Cooperation Organisation (SCO) is a Eurasian political, economic, and security organisation.
Creation of SCO was announced on 15 June 2001 in Shanghai, China.
SCO Members: China, Kazakhstan, Kyrgyzstan, Russia, Tajikistan, Uzbekistan, India and Pakistan
India and Pakistan joined SCO as full members on 9 June 2017 at a summit in Astana, Kazakhstan.
Afghanistan, Belarus, Iran and Mongolia have observer status at present.
The groupings main objective is military cooperation between members. It also works towards intelligence-sharing, counter-terrorism operations in Central Asia. It is primarily centred on its member nations' Central Asian security-related concerns, often describing main threats it confronts as being terrorism, separatism and extremism.
=================================
4. ISRO making green propellant
In News:
Scientists at the Indian Space Research Organisation (ISRO) are developing an environment-friendly propellant to power satellites and spacecraft.
If successful, the conventional hydrazine rocket fuel, a highly toxic and carcinogenic chemical will be replaced with a greener propellant blend based onhydroxylammonium nitrate (HAN) for future missions.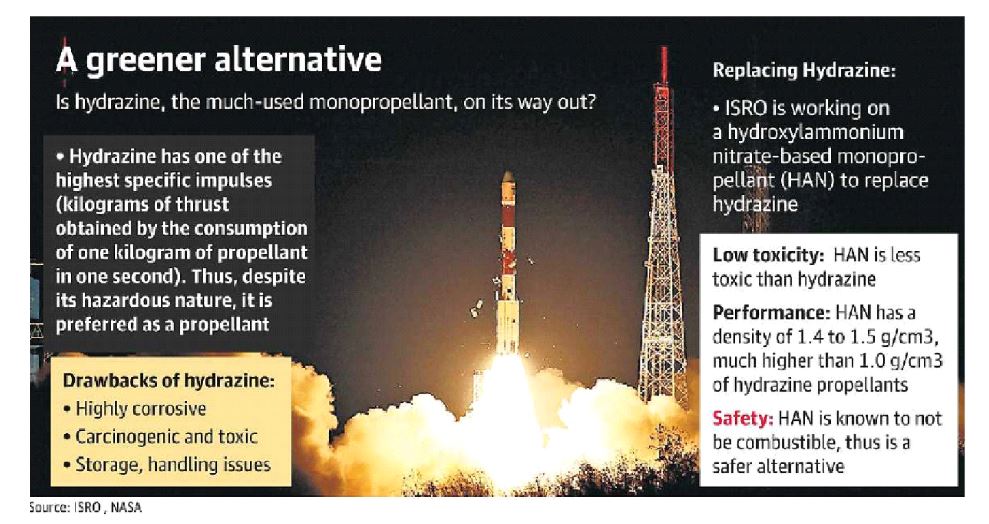 ==================================
5. China's first indigenous aircraft carrier "Type 001A"
In News:
China's first domestically manufactured aircraft carrier started sea trials.
The carrier is known as "Type 001A"
The ship will give China a second aircraft carrier as it asserts its claims in the South China Sea and seeks to deter any independence movements in Taiwan.
China's sole operational aircraft carrier, theLiaoning, is a repurposed Soviet ship bought from Ukraine, which went into service in 2012.
Do you know?
Indigenous Aircraft Carrier (IAC-1) Vikrant – is India's first Indigenous Aircraft Carrier